Be a safe & sustainable organization and give priorities on safety and quality
SQ Group of Companies is predominantly a leading Manufacturer, Assembler & Supplier of Electrical Equipment's and Accessories for use in Power Generation, Transmission and Distribution System, Automation and customization of Imported Items.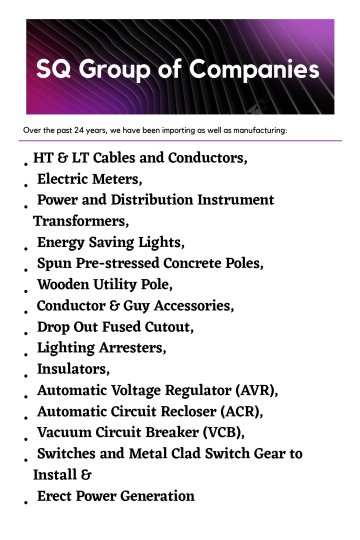 Projects by Bangladesh Rural Electrification Board (BREB), Bangladesh Power Development Board(BPDB), Dhaka Power Distribution Company (DPDC) & Dhaka Electric Supply Company (DESCO). "
Since 2012, we have embarked on a journey to offer our Products, Service & Support to the eventual consumers within The Total Power Solution Strategy.
Our valued Clients irrespective of Supply Contracts or Consumer Market are THE ESSENCE of our business. They make our business. With that in mind, we have some of the most extensive and comprehensive range of support services in addition to our products and systems. Our clients focus does not conclude with the completion of a project or a solution, we also offer following client support features:
Our sustainability not only depends on how we manage our business with a view to coping with the upcoming challenges but also on the business enterprise of who we are providing our solution.e.